Thursday, October 8th, 2015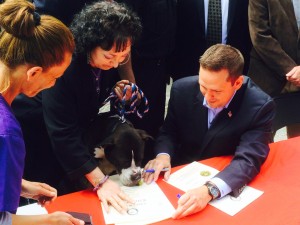 Orange County, NY Legislator Mike Anagnostakis (R-Montgomery, Newburgh) was elated when law he had proposed─Rocky's Law─was voted unanimously and thereby approved by Orange County, NY Legislators. Pursuant to Rocky's Law, Orange County Residents convicted of abusing animals are required to register within five days of being convicted or released from jail or prison. Failure to register may result in a fine of up to $2,000 and a year in jail. First time offenders will be prohibited from owning a companion animal for 15 years, and repeat offenders will be barred from owning a companion animal for the rest of their life.
Rocky's Law was named after a 3-year old Staffordshire Terrier named Rocky who had to be euthanized after he sustained life-threatening injuries from being left in freezing temperatures for five weeks while his owner went on a vacation.
Orange County Executive Steven M. Neuhaus signed Rocky's Law on June 6, 2015 at the Warwick Valley Humane Society alongside a homeless American Staffordshire lady named Mindy who placed her paw print on the bill.
Legislator Mike Anagnostakis had proposed the law so that Rocky's death "will not have been in vain. It will at least stop those who have committed the most heinous crimes from ever getting their hands on our loved ones again. What a tribute to Rocky it would be if this law becomes enacted across the U.S."
Paws up, Orange County, NY Legislators!
By Jana H. Collins