Wednesday, March 15th, 2023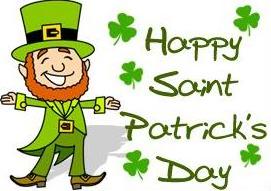 2023 St. Patrick's Day – Booze I & Lose It Campaign
On Saint Patrick's Day, we are celebrating the beginning of Christianity in Ireland.
The holiday is named after Saint Patrick (AD 385–461), who is the most recognized patron saint of Ireland.
St. Patrick's Day festivities involve parades and the wearing of green attire and shamrocks. Also, on St. Patrick's Day, the eating meat and drinking alcohol are permitted despite the prohibitions of the Lenten season. Unfortunately, too many decide to drive after consuming alcoholic beverages. Last year, about 225 motorists were injured due to impaired driving around St. Patrick's Day, including 11 fatalities.
In an effort to deter those who have been drinking before getting behind the wheel, law enforcement officers statewide will be on patrol and set up DWI checkpoints.
If you find yourself questioning whether you had too many stouts, lagers, cream ales, ales, etc, do not risk getting arrested or worse, endangering your life or the lives of others. Play it safe and call a cab, UBER, or LYFT, or have a sober friend take you home.
However, should you or someone you know receive a traffic ticket, get into a fender bender, serious accident, or receive a DUI/DWI, call us at (910) 793-9000 for a confidential consultation.
Stay safe, Wilmington!
By Jana H. Collins, Office Manager