Friday, October 21st, 2016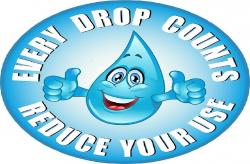 Brunswick, New Hanover, and Pender counties are all experiencing mandatory water restrictions that were put into place on October 13th due to a pipe break in Riegelwood. The Lower Cape Fear Water and Sewer Authority's pipe supplies water to utilities to all three of these counties. This pipe break is affecting areas such as Wrightsville Beach, Carolina Beach, Kure Beach, Leland, Wilmington, etc.
The break in the 48-inch pipe is nearly the size of a football and that break alone is causing 12.5 million gallons of raw water to spill through it daily.
One of the main reasons that Brunswick County has declared a state of emergency and is pleading with public water customers to reduce water usage is to be sure there is enough water for emergency needs such as firefighting efforts and hospital uses.
Here are a few tips on how to help conserve water:
Limit your shower time
Turn off water when not directly using while brushing teeth, washing hands, washing dishes, etc.
Only run dishwashers or washing machines when you have a completely full load
Limit the number of times you flush the toilet daily
The water flow from Kings Bluff Pump has been cut in half by the break, going from about 24 million gallons of water flow a day to nearly 12 million gallons of water a day. A temporary patch would be ideal in this situation, but they were not able to successfully patch it when attempting to on Wednesday morning.
Since the patch was unsuccessful, crews began constructing a temporary bypass on Thursday morning so that water would go around the break and allow it to keep flowing until the break itself is repaired. This project is expected to be completed sometime next week. The main delay in this repair is that the surrounding counties do not have parts that this break is requiring to fix, so they are waiting on parts to be flown in from other parts of the country.
Car washes have made attempts to save water by reducing their number of open hours each day and the city of Wilmington is holding back on street sweeping and power washing in some areas until the pipe is repaired. If you do see areas throughout the city using their irrigation systems still during this mandatory water restriction, it may be because their water comes from a pond.
Brunswick County Emergency Services are preparing for the worst and are there to help you if needed. They have 480,000 gallons of bottled water on hand, which is equivalent to four days worth of water for residents. Please be safe and make sure you follow all mandatory water restrictions in your area!
By Kimberlin S. Murray, Legal Assistant at Collins Law Firm