Monday, June 27th, 2011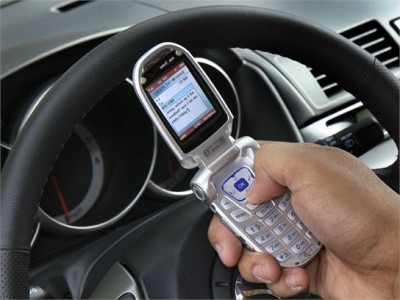 When Americans get into their car for their commute to work, to drop the kids off for school, or for any other reason, they are likely to either talk on their cell phone or use text messaging. Just this morning when our summer intern drove the 55 miles from Sunset Beach, NC (Brunswick County) to Wilmington, NC (New Hanover County) on Highway 17 passing through Ocean Isle and Bolivia, he told me he counted twenty-two people who were texting on their cell phone.
Texting while driving is quite dangerous for three reasons: 1) You are taking your eyes of the road; 2) You are taking your hands off the wheel; and 3) You are taking your mind off what you're doing.  A study released by the Virginia Tech Transportation Institute found that truck drivers who were texting were 23 times more at risk of a crash or a near crash event than drivers who were not distracted.  Additionally, the study found that texting took a driver's focus away from the road for an average of 4.6 seconds, which is enough time to travel the length of a football field at 55 mph.
Studies like these have caused state legislatures across the country to pass legislation banning text messaging while driving. In June 2009, the North Carolina Governor signed new legislation, § 20-137.4A, which banned text messaging by all drivers who operate a vehicle on a public street, highway, or public vehicular area.  This bill makes it unlawful to read email, text message, use your camera, or look up information on the internet.  However, the law has a number of exceptions where it does not apply: 1) If you are parked, 2) If you are a law enforcement officer, a member of a fire department, or the operator of a public or private ambulance; 3) If you are using a factory-installed or aftermarket GPS or wireless communications devices used to transmit or receive data as part of a digital dispatch system; and 4) If you are using a voice operated technology.
Since December 1, 2009, a violation of this law shall be an infraction and shall be punishable by a fine of $100 plus court fees.  The violation will not add points to your driving record and an insurance surcharge will not be assessed.  Additionally, failure to comply with the provisions shall not constitute negligence per se or contributory negligence per se by the operator in any action for the recovery of damages arising out of the operation of a vehicle.
The new law is quite difficult to enforce.  WWAY News Channel 3 reported that Wilmington Police Chief Ralph Evangelous said, "You assume that someone's texting, when in fact they could just be dialing a phone number, which technically is legal."  In the first six months of the new law only 300 tickets had been given to drivers in North Carolina.  In New Hanover County only 12 had been issued.  The Wilmington Police Chief believes the law is "dumb" and said, "we ought to ban the use of cell phones – period."
If you have been issued a citation because you were texting while driving, or have been charged with any other traffic violation or crime in Southeastern North Carolina, in Wilmington, NC, New Hanover County, or the surrounding areas including Bolivia, NC, Brunswick County, Burgaw, NC, or Pender County, you should contact a lawyer or attorney at Collins Law Firm at 910-793-9000 for a consultation.