Friday, October 4th, 2019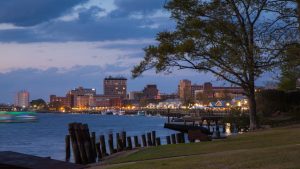 As the summer season comes to a close this year, there are more cars on the road –schools are fully back in session, and New Hanover County has had a continuously increasing number of residents which is currently at 227,000+.  And, events such as the Wilmington Riverfest and the Cape Fear Fair and Expo attract tourists to add even more to our already crowded streets.
WECT reported this week that there have been three pedestrians hit and killed in a ten day period here in Wilmington, North Carolina.  Wilmington Police Department (WPD) was shocked at the high rate of occurrence of deadly hit and runs in our area recently, even considering the perpetual construction and awful traffic.  The WPD urges pedestrians to be extra cautious and mindful of the laws, especially considering that traffic has the right of way if a pedestrian is crossing the street mid-block.
Police say these pedestrian safety tips could save lives:
Walk on sidewalks whenever they are available.
If there is no sidewalk, walk facing traffic and as far from traffic as possible.
When possible, cross the street at a designated crosswalk.
Always look both ways before crossing the street.
Look for cars in all directions, including those turning right or left.
Never assume a driver sees you. Make eye contact with drivers as they approach you to make sure you are seen.
Wear bright clothing during the day and wear reflective materials or use a flashlight at night.
Another common cause of car accidents is distracted driving, whether that is texting, eating, or simply not paying attention to their surroundings.  Only a partial second of distraction is needed for a potentially life-changing accident to occur.  Giving it a second thought before texting while driving could be what it takes to save your life, or someone else's!  However, eliminating distractions while you're driving is only half the battle when considering being a safe driver – you also have to be aware of other driver's movements, and anticipate possible traffic violations, such as running a red light, or failure to reduce speed to avoid a collision.
If you or a loved one is seriously injured in an accident, as a result of someone else's fault or negligence, we can help you get maximum compensation, meaning money damages, for your pain and suffering, medical bills, and lost wages.
If you are charged with any type of crime in Southeastern North Carolina, in or around Wilmington NC in New Hanover County, Brunswick County, or Pender County, call Collins Law Firm at 910-793-9000 for a confidential consultation about what we can do for you.
By Karen M. Thompson, Paralegal