Monday, November 29th, 2010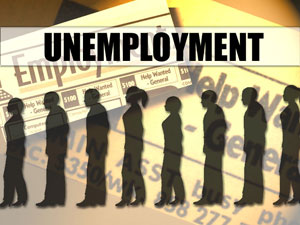 Employees who are laid off, or terminated through no fault of their own may qualify for unemployment compensation. Unemployment benefits are administered by the Employment Security Commission (ESC). To receive unemployment benefits, a former employee must file a claim with the ESC, and meet eligibility requirements. To be eligible for benefits, you must be unemployed through no fault of your own, be able and available for work and be actively seeking work. You may be disqualified from receiving benefits if you were discharged from work due to work "misconduct," such as use of alcohol or drugs, fighting, unauthorized absences without good cause or theft of company property. You may also be disqualified if you are terminated for a reason that does not constitute misconduct, but is considered a "substantial fault." Substantial fault includes acts, over which you have reasonable control, that violate reasonable job requirements.
You must go to your local ESC office to file a claim. To find out the location of your local office, look for the county office of the ESC in your phone book or go online to www.ncesc.com. After you file your claim, your employer will have an opportunity to respond to the claim, including explaining the reason for your discharge. If your employer contests the claim or if your claim raises eligibility issues, the claim will be reviewed by an adjudicator who will make a determination as to whether you have a valid claim. An appeal can be made from the adjudicator's decision.
Many employers will contest a filing for benefits because if the claim is awarded, the unemployment insurance costs to the employer may increase.
Collins Law Firm has successfully represented employees seeking unemployment, at the initial stages, and through the appeals process. If you need assistance pursuing unemployment compensation, call us at 910-793-9000 to schedule a consultation.