Thursday, October 20th, 2011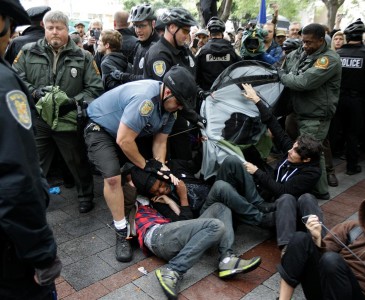 On October 1st, 2011 more than 2,500 protesters marched across the Brooklyn Bridge.  Of those 2,500 protesters from the Occupy Wall Street (now sometimes called OWS) demonstration, more than seven hundred protesters were arrested by the police while trying to cross the Brooklyn Bridge.  Police defend their actions of arresting the protesters by saying the marchers' actions led to the intervention.   Only those who were walking in the road portion of the bridge were arrested while those who used the Brooklyn Bridge walkway were not arrested.  The protesters who were walking in the street portion of the bridge were arrested due to the laws that were enacted to ensure reasonable time, place, and manner restrictions on protests to prevent any unsafe conditions for the public.  By choosing to march in the street, demonstrators were creating a public safety hazard while also impeding the flow of traffic across the bridge.
The New York Police Department had warned protesters in the days preceding October 1st arrests.   The police department had issues several warnings to the protesters that walking in the roadway instead of on the pedestrian walkway, would lead to arrests of those who did not abide by the law.  Many of those who were arrested have since been released with a summons.
In the weeks since it began, the OWS protests have become violent.  Over a dozen New York Police Department officers have been injured in protest related incidents including five officers who were sent to a hospital for injuries including hand and ankle injuries, and at least one head trauma injury.   Injuries were sustained at events including marches in Times Square on Oct. 15, and on Oct. 14 when OWS protesters marched down Broadway from Zuccotti Park toward the New York Stock Exchange in a celebration of the postponing of the cleaning of the park by the owners – Brookfield Properties.  First Precinct Commander Edward Winski suffered an elbow injury after a protester fought with a deputy inspector while being arrested because they refused to move from the street to the sidewalk.  The protester was charged with resisting arrest, obstructing government administration, and criminal mischief.
Written by Samantha Barringer – Intern with Collins Law Firm