Wednesday, December 30th, 2015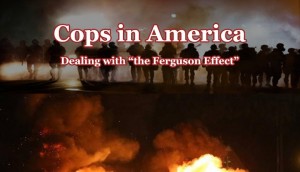 The resentment towards police departments by community activists who have portrayed law enforcement as racist who routinely shoot black Americans, for essentially no reason, has caused a substantial increase in shootings and murders all across the United States in recent years. This idea has become what is known as "The Ferguson Effect."
So often we see on the news protests and riots against police officers who are accused of shooting or killing an individual out of racism, not protecting their life. What people may often overlook is the huge risk that comes with being a law enforcement officer, and as if their job isn't dangerous enough, now anytime a cop uses his/her gun they have to immediately think about being indicted, losing their job, family, and more.
This controversial hypothesis that crime is on the rise is ongoing and whether you agree or disagree – in all areas – has some sort of effect in your community. Here in New Hanover and surrounding counties (like Brunswick and Pender) we have seen a spike in crime in recent years, however, court dockets are decreasing by about half. One possible explanation could be that law enforcement officers are backing off on writing traffic and criminal tickets because of the extreme scrutiny they face as a whole. Every action has a consequence. It would be ideal to bring the community and local police departments together to work on ways that can reduce crime in our area. Cops aren't always the "bad guys."
New Hanover County Police Department offers their vision statement on the home page of their website "To serve with professionalism and hold ourselves responsible and accountable to the citizens of New Hanover County," and here at Collins Law Firm, we support what the greater goal of all police departments is: to serve and protect. It is unfortunate that the atmosphere in which law enforcement officers are to perform their duties is now burdened with danger and consequence.
Attorney David Collins has over 20 years of experience in the legal field, and has represented many people charged with various crimes. If you or someone you know has been charged with a crime, please call to schedule a consultation today: (910) 793-900. We're here to help!
By Amber Younce, Legal Assistant