Tuesday, December 18th, 2012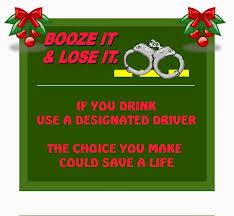 The holiday season is in full swing and so is the North Carolina "Booze It & Lose It" Campaign, created by State Transportation Secretary Gene Conti in an effort to remove impaired drivers from the road and keep our citizens safe. Checkpoints and increased patrol began on December 6th and will continue through January 2, 2013, to help reduce the rising number of alcohol related crashes, injuries and fatalities state wide.
Driving while under the influence is a violation of North Carolina General Statute § 20-138.1
N.C.G.S. § 20-138.1.  Impaired driving.
(a)        Offense. – A person commits the offense of impaired driving if he drives any vehicle upon any highway, any street, or any public vehicular area within this State:
(1)        While under the influence of an impairing substance; or
(2)        After having consumed sufficient alcohol that he has, at any relevant time after the driving, an alcohol concentration of 0.08 or more. The results of a chemical analysis shall be deemed sufficient evidence to prove a person's alcohol concentration; or
(3)        With any amount of a Schedule I controlled substance, as listed in G.S. 90-89, or its metabolites in his blood or urine.
(a1)      A person who has submitted to a chemical analysis of a blood sample, pursuant to G.S. 20-139.1(d), may use the result in rebuttal as evidence that the person did not have, at a relevant time after driving, an alcohol concentration of 0.08 or more.
Last year, 3,600 North Carolina Drivers were charged with DUI / DWI during the month long holiday campaign and that number is expected to increase this year. Not only does drinking and driving put you at risk of getting arrested at a checkpoint or during a traffic stop, it puts your life and the lives of others in danger.  In fact, drunk drivers with a blood alcohol concentration (BAC) of 0.08, the legal limit, are 11 times more likely than a sober driver to be in a motor vehicle accident. This likelihood increases with the increase of the BAC level.  With odds like that, why risk it?
In 2011, there were more than 950 alcohol related crashes in North Carolina during the "Booze It & Lose It" Campaign spanning from December 3rd – January 3rd. Those 950 crashes resulted in 44 fatalities and 702 injuries- some of which were innocent victims and not the drunk driver themselves.
If you find yourself questioning weather you had too much eggnog at your office holiday party, don't risk getting arrested or worse, endangering your life or the lives of others. Play it safe and call a cab or have a sober friend take you home.  If you or someone you know have any legal needs this holiday season call Collins Law Firm at (910) 793- 9000
(910) 793- 9000.
By Lauren Seidel, Paralegal