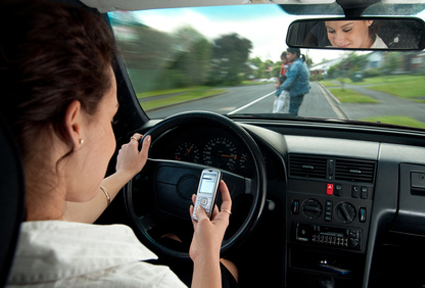 Over the past twenty years, cell phones have become an essential part of day to day life for many Americans. Cell phones continue to provide us with the convenience to communicate while on the go, comfort in knowing we have a way to call for help in case of an emergency, and access to music, games and entertainment.  Cell phones can make life easier, but when used irresponsibly, can have disastrous consequences.
Answering a text takes away your attention for about five second. That is enough time to travel the length of a football field. We know it is dangerous, but many of us continue to send or receive text messages while driving thinking that nothing will happen to them. But according to the National Highway Traffic Safety Administration, text messaging while driving makes a car crash 23 times more likely and 1.3 million auto collisions involved cell phones last year.
Unfortunately, about 6,000 deaths and about 500,000 injuries are caused by distracted drivers every year.  In response to the rapid increase in texting while driving fatalities, 39 states, including North Carolina have passed laws prohibiting all drivers from texting while driving. Texting while driving is a violation of the North Carolina General Statute §20-137.4A.
N.C.G.S. §20-137.4A Unlawful use of mobile telephone for text messaging or electronic mail
(a) Offense. – It shall be unlawful for any person to operate a vehicle on a public street or highway or public vehicular area while using a mobile telephone to:
(1) Manually enter multiple letters or text in the device as a means of communicating with another person; or
(2) Read any electronic mail or text message transmitted to the device or stored within the device, provided that this prohibition shall not apply to any name or number stored in the device nor to any caller identification information.
(b) Exceptions. – The provisions of this section shall not apply to:
(1) The operator of a vehicle that is lawfully parked or stopped.
(2) Any of the following while in the performance of their official duties: a law enforcement officer; a member of a fire department; or the operator of a public or private ambulance.
(3) The use of factory-installed or aftermarket global positioning systems (GPS) or wireless communications devices used to transmit or receive data as part of a digital dispatch system.
(4) The use of voice operated technology.
(c) Penalty. – A violation of this section while operating a school bus, as defined in G.S. 20-137.4(a)(4), shall be a Class 2 misdemeanor and shall be punishable by a fine of not less than one hundred dollars ($100.00). Any other violation of this section shall be an infraction and shall be punishable by a fine of one hundred dollars ($100.00) and the costs of court.
A texting while driving charge will not cause you to receive any drivers license points or insurance surcharges, however the charge will appear on your North Carolina DMV record unless you are able to have the charge dismissed. If you or someone you know has received a ticket for texting while driving, call Collins Law Firm for a free consultation at 910-793-9000
910-793-9000.
By Lauren Seidel, Paralegal