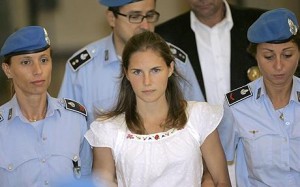 Amanda Knox will be at home in Seattle this week for the first time in over four years.  The Italian appeals court overturned her murder conviction.  After arriving back in the United States, she said: "What's important for me to say is just thank you, to everyone who has believed in me, who has defended me, who has supported my family," she said. "Thank you for being there for me."
Knox became fluent in Italian since being jailed in Italy for so long.  Before beginning her remarks, Knox smiled and said, "They're reminding me to speak in English."
Knox was convicted of murder in the 2007 death of her roommate – Meredith Kercher.  Knox had been sentenced to 26 years in prison.  Knox said she wanted the Kercher family to be remembered.
While the appeals court exonerated Knox of the most serious charges,  the court upheld her conviction on the charge of defamation against Patrick Lumumba, based on Knox accusing him of killing Kercher.  She was sentenced to three years in prison, which she has already served.
Kercher's body was found partly naked, with more than 40 stab wounds and a deep gash in her throat, in the flat she was a roommate with Knox in Perugia where they were studying.
The Italian prosecutors announced they intend to appeal Knox's case to Italy's highest appellate court.  If Italy's highest court – the Corte Suprema – rules in the prosecutor's favor, it could reinstate the murder charge against Knox.  Italy then could seek her extradition from the United States to be sentenced.
Knox was a popular girl in Seattle before she went to Italy.  She had won her school's highest award – the  Manvel Schauffler Award – named after a founder of the school.
Candace Dempsey – a Seattle-based author of one of about a dozen books that have been written about the Knox case, said "She has earning power now that she is free. . . .  She can write a book and she can certainly help her family pay back the bills" they incurred in her defense, and on their prolonged visits to Italy.