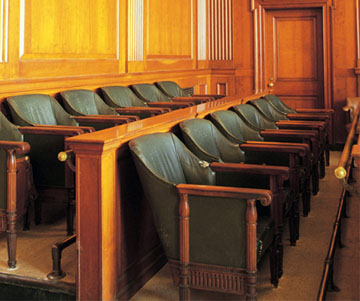 If you are summoned for jury duty, it is important that you comply with the requirements of the summons. Report to the bailiff of the proper court on the date and at the hour stated in your summons. In New Hanover County, there is a phone number listed on the summons to call to find out if you will be needed or not. If you are needed, there is a jury assembly room managed by the clerk's office where jurors are to report, and the Jury Coordinator will give you further instructions. However, each county in North Carolina may have different procedures for reporting for jury duty.
To be qualified to serve in North Carolina, a juror: (1) must be a citizen of the United States and of the state of North Carolina, (2) must be a resident of the county in which called to serve as a juror, (3) must be at least 18 years of age, (4) must be physically and mentally competent to serve, (5) must be able to hear and understand the English language, (6) must not have been convicted of or pled guilty to a felony unless citizenship has been restored according to law and (7) must not have served as a juror during the preceding two years.
Many people would rather not have to serve as a juror, but it is an important duty we have as United States Citizens. Qualified persons age 72 or older may elect not to serve; otherwise, a person may be excused from jury duty on a particular occasion only after requesting to be excused because of special circumstances that may apply. No excuse is automatic and a judge will decide each request on its own merits and may defer jury service until a later date. If you have questions about your jury service, contact the clerk of court as soon as possible. In New Hanover County, we have a clerk in charge of the jury pool referred to the "Jury Clerk." In some cases, it may be possible to defer one's jury duty in advance. The summons should explain the procedure if it is possible in the county in which you are summoned to serve.
If you are called to serve on jury duty, there will likely be a lot of time spent just waiting. So you may want to bring a book to read, or something on which to quietly work while waiting.