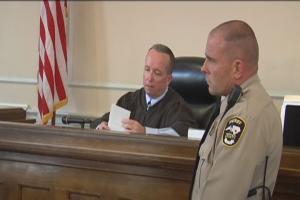 Last month on May 25, 2011, Judge John Joseph Carroll, III passed away shortly after learning he had pancreatic cancer at only 50 years of age. His death was unexpected to almost everyone, and he is dearly and sorely missed by those of us left behind.  Judge Carroll was extremely well respected and there was a huge turnout at the services to honor his life. He was a man who honored God, his family, and his country.  "He was happiest when he was serving others," said the Rev. Jeff Nichols. "The attendance is a tribute to the respect this community had for this great man." His beloved wife, Charlene, said:  "He was a great, great family man . . . . His hobby and his sport was just hanging out with the children."
On June 6, 2011, Jenna F. Butler, President of the 5th Judicial District Bar sent out a Notice of Special Meeting to Select Nominees for District Court Vacancy to the members of the 5th Judicial District Bar which is comprised of New Hanover County (County Seat Wilmington NC) and Pender County (County Seat Burgaw NC). The Notice read: Pursuant to N.C. Gen. Stat. §7A-142 and Article XI of the Bylaws of the Fifth Judicial District Bar, notice hereby is given that a SPECIAL MEETING OF THE FIFTH JUDICIAL DISTRICT BAR will be held on WEDNESDAY, JUNE 22, 2011 at 5:30 p.m. in Courtroom 403 of the New Hanover County Courthouse for the sole purpose of selecting nominees to submit to the Governor to fill the District Court Vacancy occasioned by the unfortunate loss of The Honorable John J. Carroll, III. The notice also contained the following note: We regret the expediency of this notice and meeting so soon after Judge Carroll's passing. This was not our preferred timeframe and no disrespect is intended. By statute, our membership must submit its nominations within thirty (30) days of the date of the vacancy or the Governor may fill the vacancy without our input. Thank you for your understanding.
On Wednesday, June 22, 2011, lawyers and Judges from the 5th Judicial District Bar met Wednesday at the New Hanover Courthouse and voted for the top three candidates for the new district court judge, to be appointed by the Governor of North Carolina – Beverly Perdue. The Wilmington Star newspaper reported that from the list of candidates, the group of attorneys selected three.  The candidate with the most votes was attorney Robin Wicks Robinson who narrowly lost a judicial race in November 2010 and has twice previously been nominated for judicial vacancies.  The other two candidates selected were Nora Hargrove, an assistant public defender for the New Hanover County Public Defender's Office, and Kent Harrell, a Burgaw attorney who's practice includes family law, civil litigation and criminal defense.