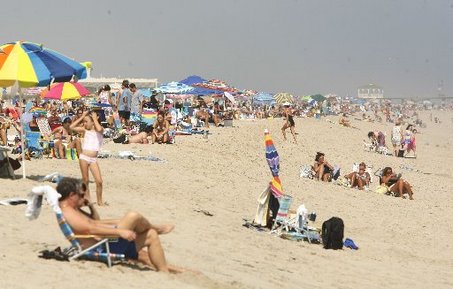 Americans were not discouraged by high gas prices, which at $3.77 a gallon was one dollar a gallon higher compared to last year, and took to the road this past weekend in enormous numbers to celebrate Memorial Day Weekend.  According to a  AAA report 34.9 million travelers journeyed at least 50 miles from home, which was an increase of 100,000 travelers compared to the same weekend last year.  The report declared that 41 percent of the people traveling in the South Atlantic region went to a beach.
In North Carolina that meant that people came to our beautiful beaches up and down the coast.  North Carolinians spent the holiday weekend at the beaches in Pender County, New Hanover County, and Brunswick County.  The beaches in our area that saw a dramatic rise in population this past weekend was Surf City, Topsail Beach, Wrightsville Beach, Kure Beach, Carolina Beach, Holden Beach, Ocean Isle Beach, and Sunset Beach.
The increase in driving led to more dangerous conditions on the roads.  The roadways going to and from the beaches had many traffic jams because so many people descended on the beaches in our part of the state.  In addition to more cars clogging the roads, people were more likely to be drinking and driving.  The North Carolina Highway Patrol announced that at least nine motorists died during the Memorial Day Weekend.  Last year, eleven motorists died and 358 people were injured in car accidents.
The Star News (Major newspaper in Wilmington, NC) published before the holiday weekend that the Wilmington Police Department would host a multi-agency traffic checking station on Sunday afternoon and evenings.  Officers involved in the operation will target impaired driving as well as underage possession of alcohol, open containers of alcohol, or failure to use seatbelts.  It is highly recommended to find experienced attorneys or lawyers to help you if you were caught in one of these checkpoints.
If you were hurt in a car accident, or you were charged with any crime or issued a traffic citation during the Memorial Day Weekend in or around Wilmington, NC scheduled for court in New Hanover County, Brunswick County (Bolivia, NC), or Pender County (Burgaw, NC), you should contact a lawyer or attorney at Collins Law Firm at 910-793-9000 for a consultation.