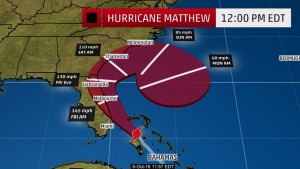 North Carolina residents have been keeping a close eye on Hurricane Matthew this past week.  On Monday, Governor Pat McCrory issued a state of emergency for 66 North Carolina counties, including New Hanover County, Brunswick County, and Pender County.  This hurricane was supposed to directly hit the coast, but the latest forecast track shows that this powerful storm is expected to make a sharp turn to the east as it nears the North Carolina Coast. This sharp turn is caused by an upper level trough which will move towards the eastern United States and force the hurricane away from moving up the east coast. It will also likely weaken into a Category 1 hurricane by this point.
Evacuation orders remain in place because Hurricane Matthew is still expected to brush our coast and could still bring damaging winds and flooding. To ensure safety, The University of North Carolina Wilmington has even issued a mandatory campus evacuation for all students starting Thursday at 12 p.m.
Although things are looking better for North Carolina, areas such as Wilmington, Southport, and Oak Island may still encounter dangerous weather conditions, so it is best to continue to be over-prepared. Here are a handful of tips that the Red Cross suggests you do to be prepared for a hurricane:
Bring in anything that can be picked up by the wind (lawn furniture, bicycles, etc.)
Fill your car's gas tank
Talk with your family and create an evacuation plan so that you are always prepared
Make sure you have at least a 3-day supply of water
Make sure you have flashlights, batteries, and a first aid kit
Drive only if necessary and avoid flooded roads
These dangerous weather conditions may cause more traffic accidents and traffic citations, so we encourage everyone to be safe and extra cautious on the roads this weekend.  However, if you or someone you know gets into an accident or receives a traffic ticket, please give us a call at 910-793-9000 for a confidential consultation.
By Kimberlin S. Murray, Legal Assistant at Collins LAw Firm