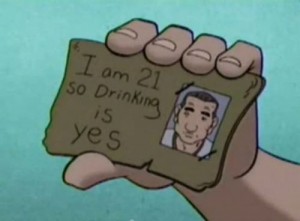 You may want to think twice before using a fake ID in New Hanover or Pender County from now on.  Starting October 1, you will face more penalties in court if you are caught using a fake ID.
District Attorney Ben David announced some changes to the underage drinking deferred prosecution program dealing with fake ID's to try to make things a little bit more serious.  Today, the program includes a requirement where defendants have to go to New Hanover Regional Medical Center on a Friday night to be exposed to some of the trauma resulting from drinking and driving. They also are required to spend a couple of hours in DWI treatment court for educational purposes. In addition to these requirements, those who are charged with a fake ID offense after October 1st will have their license taken by the court for 60 days.
These changes are not only put in place to do things such as combat identity theft, but also to save lives.  Statistics show that other states that also enforce these types of programs have seen a 7% reduction in fatal accidents. When put into perspective, that is equal to saving one young person's life per week.
Some people under the age of 21 pay nearly $200 to order a fake ID online and are giving away crucial information to their identity such as their social security and license number. Not only do these things put them at risk for identity theft themselves, but it is very dangerous. These ID's have become extremely difficult to spot in the recent years, but bars, restaurants, grocery stores, etc. are starting to crack down and become better at detecting fake ID's.
We encourage all high school and college students in New Hanover, Pender, Brunswick, and surrounding counties to be safe and never purchase or use a fake ID. However, should you find yourself in trouble and need to hire a lawyer or know of someone who does, Collins Law Firm can help. Give us a call at 910-793-9000 for a confidential consultation.
By Kimberlin Murray, Legal Assistant