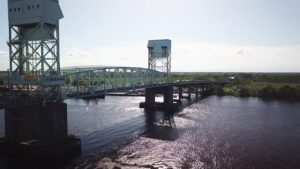 The planning and design for the Cape Fear Crossing Project has been postponed indefinitely, as of August 13, 2019.
The Cape Fear Crossing would involve a 9.5 mile stretch of road and bridge that would help alleviate traffic congestion to and from the Port of Wilmington.  The cost of the bridge would be approximately $1 Billion, with 80% federal funding, and the other 20% coming from the State of North Carolina.  The Cape Fear Crossing would also impact neighborhoods on either side of the Cape Fear River, including Brunswick Forest and Mallory Creek.
The draft of the State Transportation Improvement Plan (STIP) was released this month, which revealed that the Cape Fear Crossing did not score high enough on the plan to receive sufficient funds to continue moving forward with planning and design.
One deadline to pick a preferred roadway (out of six) set for June of this year was pushed back initially, because of the volume of input at a public hearing held in April of this year, where about 650 people attended at North Brunswick High School to voice their opinions on the new bridge.
To be reconsidered for funding in the future, the project will need to be submitted by the Wilmington Urban Area Metropolitan Planning Organization.  The NCDOT will be releasing the next draft STIP in February 2022.  However, even if the project gets reentered by then, work would not actually begin until 2032 or even later.
When travelling back and forth between Brunswick and New Hanover Counties, be aware of other drivers, as well as construction hazards and emergency vehicles.  Pay attention, abide by the NC laws, and stay safe, especially as we head into this next school season.
However, should you or someone you know get injured in an accident, or receive a citation for a traffic violation in Southeastern North Carolina, in or around Wilmington, NC, in New Hanover County, Brunswick County, or Pender County, contact Collins Law Firm at 910-793-9000 for a confidential consultation.
By Karen M. Thompson, Paralegal