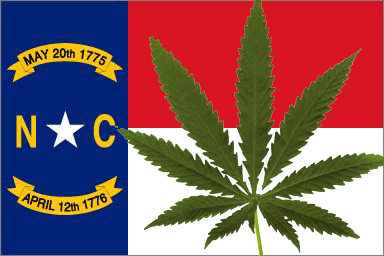 The U.S. prison population is six to ten times as high as in most Western European nations and many say that this is because of the Unites States War on Drugs. More than 749,000 people were arrested in the United States for marijuana-related offenses alone in the year 2012.
However, while the use, sale, and possession of marijuana in the United States is still illegal, the federal government has declared that a state may pass a law to decriminalize cannabis for recreational use, as long as they have a regulation system in place. Many states have decriminalized the substance to certain degrees, other states have created exemptions specifically for medical marijuana, and some have done both. Colorado and Washington are two states that have legalized the recreational use of cannabis following the approval of state referendum in the 2012 elections.
In April 2013, North Carolina State Representative Kelly Alexander, who earlier in 2013 pushed unsuccessfully for medical marijuana, introduced a new bill: House Bill 637. Alexander has said that it would bring North Carolina in line with a number of other states; but marijuana decriminalization bills have not fared too well in North Carolina in the past.  House Bill 637 is a part of North Carolina's Marijuana Policy Project and has passed its first reading and is now set to be heard by the state Judiciary Committee which will carry over from 2013 to 2014 when the legislature reconvenes.
Currently in North Carolina, the law is that it is a crime to knowingly or intentionally possess marijuana (including small amounts for personal use). Penalties vary according to the amount possessed. (N.C. Gen. Stat. Ann. § 90-95.) The penalties include:
•                         Up to one half of an ounce – a fine of up to $200, up to 30 days in jail, or both.
•                         Between one half ounce and one and a half ounces – a fine of up to $500, between one and 120 days in jail, or both. The judge may order probation or community service in addition to, or  in lieu of some or all of the jail time.
•                         One-and-a-half ounces or more – a fine of $500 or more, up to one year in jail, or both.
It will also be a criminal conviction on a person's record.
Under House Bill 637, being charged with possession of less than an ounce of marijuana would only be considered a civil infraction with a fine – no longer would a sentencing history nor a criminal record interfere with one's forthcoming in life. This bill would also allow past offenders to be able to have their records expunged.
Many North Carolina residents are in favor of the proposed bill and hope that it will get passed. A Public Policy Poll taken in March, 2013 indicated that 56 percent of those surveyed in North Carolina think the penalty for possessing small amounts of marijuana should be decriminalized.
For the sake of patients, North Carolina lawmakers should at least consider to study medical marijuana as suggested by another bill introduced by Republican Alexander on April 11, 2014 – bill H941 – A BILL TO BE ENTITLED AN ACT REQUIRING THE LEGISLATIVE RESEARCH COMMISSION TO STUDY ISSUES RELATED TO THE MEDICAL USE OF CANNABIS.
At Collins Law Firm we handle marijuana related and other drug charges in New Hanover, Brunswick, and Pender County, and we have successfully defended clients charged with all types of drug and alcohol offenses. The experienced and compassionate team at Collins Law Firm is here for you – just a phone call away at 910-793-9000.
By Rachel R. Reynolds, Paralegal at Collins Law Firm