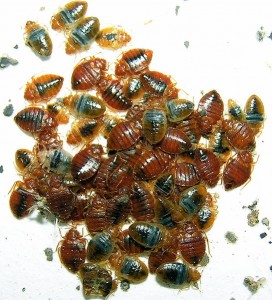 The New Hanover County Courthouse located in Wilmington, NC is closed today, Thursday March 8, 2012, because of an infestation of bed bugs! Courthouse personnel said they noticed some bed bugs in the building and notified the New Hanover County division of Property Management.
Bed bugs have been a human parasite for thousands of years. In the 1940s, bedbugs were mostly eradicated in the developed world.  However, since the mid1990's, bedbugs have increased in numbers Infestation of human habitats has been increasing, and bed bug bites and the effects thereof have been increasing as well.
An exterminator is scheduled to try to kill all of the pests today by fumigating the building .  We have learned that other facilities will be used for court business with urgency.  Emergency protective orders and civil filings will be handled at the Juvenile Clerk's Office located at 133 North Fourth Street, Superior Court will be relocated to the Old Courthouse located next door to the main courthouse at 24 North Third Street, and warrants can be sworn out at the New Hanover County Sheriff's Office on Blue Clay Road.  Jerome Fennell, Director of NHC Property Management, said that "County staff are working closely with exterminators to ensure the facility will be ready for normal operations on Friday." Whether they will be successful remains to be seen.  Samantha Dooies, assistant to District Attorney Ben David said that blood-sucking bed bugs can be very difficult to eradicate.
An announcement is expected later today about the success of the eradication efforts.  The staff and attorneys at Collins Law Firm certainly hope that those working on the problem are thorough and successful!  The courthouse is full of hardworking people who already have a hard enough time getting all their responsibilities fulfilled, and they need a clean and safe workplace, and they don't need further delays.  Good luck and successful exterminating to everyone working on the problem!