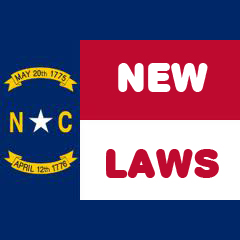 Happy 2016! As of January 1, 2016, 23 new laws will take effect in North Carolina – five of which could impact your daily life, and here they are:
Change in gas tax. As of January 1, you will now save one cent off of every gallon of gas, a total of 35 cents in taxes. However, in exchange for the tax break here, some DMV services have increased, such as registration and license renewal. North Carolina's goal with this is to generate revenue for the NCDOT with respect to road construction and maintenance.
District Attorneys (DA's) to carry concealed weapon. DA's in North Carolina are now permitted to carry a concealed weapon in the courtroom with appropriate permits.
Unemployment requirements on the rise – start job seeking! For those applying and those who are currently on unemployment, you are now required to prove you have contacted five businesses per week, whereas before it was just two.
Abortion awareness and alternatives. Prior to January 1 in North Carolina, doctors have always had to hand out information regarding alternatives to abortions to their patients 24 hours before executing the procedure. Now doctors are required to give out this information 72 hours in advance, and abortion clinic inspection reports have to be posted on the web. The goal here to give women more time to consider their options and final decision.
Protect your child's identity! With identity theft on the rise, North Carolina now offers a Protected Consumer security freeze option for children under the age of 16. Parents can have this plan put place in to prevent anyone from taking their child's name.
To see a full list of the new laws that took effect on January 1, 2016, click here: http://archive.digtriad.com/assetpool/documents/151002063956_2015_Effective_Dates.pdf
By Amber Younce, Legal Assistant