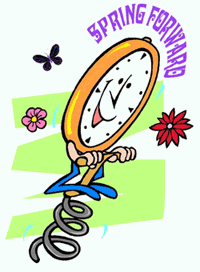 It's that time of year again, folks! Time to push those clocks forward one hour this Sunday, March 14, so we will "lose" an hour of sleep this weekend. The first day of Spring, which is also known as the Vernal Equinox, is Saturday, March 20, 2021.
As we continue to remember and look back on the past year of the pandemic – from quarantining, social distancing, losing loved ones, and lives being turned upside down in every possible way – we can also appreciate the little things that make us smile, including a few days of warmer weather and sunshine.
The increasing number of North Carolinians receiving the COVID vaccine has also seemed to put a glimmer of hope into our hearts that we might – one day soon – be able to gather in a group with friends to enjoy the summer weather.
As the weather continues to warm up and COVID restrictions are becoming slightly more lenient, there is a higher possibility of finding yourself in need of an attorney, because you received a traffic ticket, or face even more serious charges such as driving while impaired (DWI / DUI), underage drinking, possession of drugs and/or drug paraphernalia, possession of open container, etc. There is also an increased risk of getting injured while traveling by car, or while boating.
Should you find yourself in need of an attorney for a serious personal injury or wrongful death matter, or should you need representation for a criminal charge, or a traffic ticket, please give our office a call for a confidential consultation.
By Karen M. Thompson, Paralegal