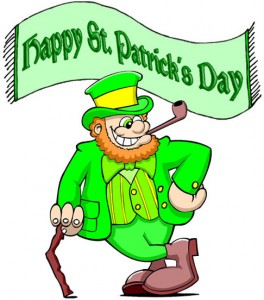 This weekend, on March 17, we will be celebrating Saint Patrick's Day which is a cultural and religious holiday.  Saint Patrick (AD 385–461), after whom this holiday is named, is the most commonly recognized of the patron saints of Ireland.
Saint Patrick's Day commemorates the arrival of Christianity in Ireland and was made an official feast day in the early 17th century.  This holiday is observed by the Catholic Church, the Anglican Church, the Eastern Orthodox Church and the Lutheran Church.  Nowadays, Saint Patrick's Day has also become a celebration of Irishness and Irish Culture in general.
Celebrations of Saint Patrick's Day involve public parades and festivities, and the wearing of green attire and shamrocks.  Prohibitions of the Lenten season against the consumption of meat and drinking alcohol are waived for the day.
Last year, unfortunately, more than 200 fatal collisions occurred due to drunk drivers who decided to get behind the wheel after Saint Patrick's Day celebrations.
In an effort to deter those who have been drinking from getting behind the wheel, thousands of law enforcement officers across the state will be on patrol and DWI checkpoints.
If you find yourself questioning weather you had too many stouts, lagers, cream ales, ales, or else, do not risk getting arrested or worse, endangering your life or the lives of others. Play it safe and call a cab or have a sober friend take you home.
However, should you or someone you know receive a traffic ticket, get into a fender bender, serious accident, or receive a DUI/DWI, call us at (910) 793-9000
(910) 793-9000 .
Stay safe, Wilmington!
By Jana H. Collins, Office Manager