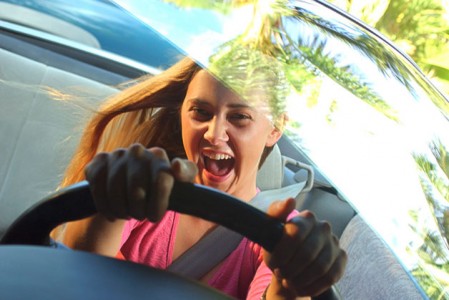 Effective January 1, 2012, Article 2 of Chapter 20 of the North Carolina General Statutes was amended by adding a new section introducing an immediate 30 day civil license revocation for provisional licensees.  Pursuant to General Statute 20-13.3(a)(4) a provisional licensee is defined as a person under the age of 18 who has a limited learner's permit, a limited provisional license, or a full provisional license issued pursuant to G.S. 20-11.
Pursuant to this new law, a license revocation can be triggered by common offenses such as Speeding more than 15 mph over the limit or more than 80 mph in a 70 mph zone, Reckless Driving, Speeding to Elude Arrest, Aggressive Driving, Failing to move over for law enforcement or emergency vehicles giving a warning signal.  A complete list of criminal moving violations subjecting a provisional licensee's permit or license to revocation can be found on page two of the affidavit and revocation report newly issued by the North Carolina Administrative Office of the Courts to be used for law enforcement officers (new AOC-CVR-12).
Pursuant to G.S. 20-13.3(d) the provisional licensee must be given  a copy of the revocation order (new AOC-CVR-13) by the he judicial official which must state the date on which the provisional licensee's permit or license becomes valid again.  The provisional licensee keeps their license or permit, however, they are not authorized to drive during the revocation period.
Pursuant to G.S. 20-13.3(f), a  provisional licensee who is subject to a civil license revocation under this new law is not eligible for a limited driving privilege.
At the conclusion of the revocation period the person's permit or license becomes valid by operation of law—payment of a fee is not required.
Pursuant to G.S. 20-13.3(h) no driver's license or insurance surcharge may be assessed for a provisional licensee revocation pursuant to the this new law.
A provisional licensee who drives a motor vehicle on a highway during the period of revocation under G.S. 20-13.3 commits the offense of driving while license revoked under G.S. 20-28.
Collins Law Firm has been representing people charged with traffic citations, speeding tickets, and other criminal charges in Southeast North Carolina for over ten years and we will be happy to discuss your situation with you. Feel free to call for a consultation regarding any legal matters for which you need legal representation at (910) 793-9000.
By Jana Collins, Office Manager