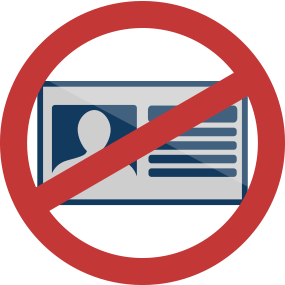 In North Carolina, driving is a privilege.  Some drivers however put themselves and others in danger by disregarding traffic laws and driving dangerously, negligently or carelessly.  Such driving behavior is an abuse of one's driving privilege and may result in the loss of said privilege.  The temporary loss of one's driving privilege is called suspension.  Upon successful completion of the terms of the suspension, one may get their driving privilege reinstated.  Some offenses however, warrant one's driving privileges to be terminated.  This is called revocation.  Upon a revocation, one must meet eligibility requirements in order to get their license reinstated and may need to have an administrative hearing.  Once found eligible, one will need to reapply for a driver license at a driver license office.
Below is a table providing general information regarding common suspensions and revocations.  However, each driving record is different and multiple suspensions may effect one's eligibility for reinstatement of their driving privileges.
Offense

Length of Suspension/
Revocation

Driving while impaired 1st offense
1 year
2nd offense
4 years
3rd or subsequent offense
Permanent
Refused chemical analysis
1 year
30-day civil revocation
30 days – extends until compliance with court

Driving with suspended or revoked license

1st offense
1 year
2nd offense
2 years
3rd or subsequent offense
Permanent
Failure to appear
Indefinite
Failure to pay fine
Indefinite

Speed over 55 mph and exceeding limit by more than 15 mph

1st offense
30 days
2nd offense within 12 months
60 days
Convicted of reckless driving on the same occasion
60 days
Two convictions speeding over 55 mph in 12 months
Up to 6 months

Accumulation of 12 points in 3 years or 8 points in 3 years following reinstatement of license

1st suspension
60 days
2nd suspension
6 months
3rd or subsequent suspension
1 year

Moving violation while license is suspended

1st offense
1 year
2nd offense
2 years
3rd or subsequent offense
Permanent
Violation of ignition interlock restriction
1 year
Therefore, it is important that you consult with an attorney knowledgeable and experienced in dealing with violations of traffic laws and driving privileges to either avoid a suspension or revocations, or to meet eligibility requirements for the reinstatement of one's driving privilege.
Collins Law Firm represents people charged with a wide range of traffic matters from simple speeding tickets to serious felony charges. In many cases we are able to avoid the necessity of our clients appearing in court and we help eliminate or mitigate the negative consequences of citations or charges. For most minor traffic matters, Collins Law Firm offers a free initial telephone consultation or we usually have appointments available immediately if you would like to come to our office to meet with a member of our staff.
Should you or someone you know receive a citation for a traffic law violation such as a speeding ticket, call the friendly professionals at Collins Law Firm at 910-793-9000 for a confidential consultation.
By Jana H. Collins