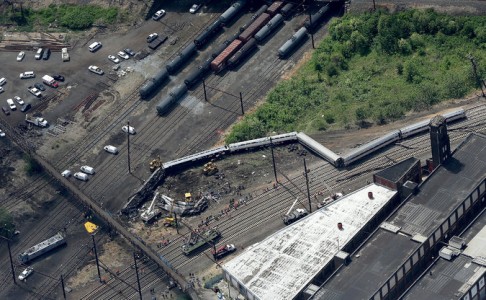 On Tuesday night, May 12, 2015, an Amtrak train traveling from Washington, DC to New York City derailed in the Port Richmond neighborhood of northeast Philadelphia, leaving at least seven people dead and more than 200 injured. At 9:30p.m, during this seemingly normal commute, Amtrak Northeast Regional Train 188 approached a bend, traveling at a speed of 106 MPH, more than twice the speed limit (of 50 MPH) in this area of the track.
Investigators are now trying to determine the cause of this terrifying accident; is the engineer to blame, did equipment fail, or was something even entirely different the cause of this tragedy?  Some believe that the real issue is the absence of available safety technology which could have prevented the derailment of Amtrak Train 188.  When using this safety technology called Positive Train Control (PTC), especially equipped trains receive reliable and functional information, preventing unsafe train movements and thereby preventing accidents from happening.  PTC Systems monitor the movement of trains and take control over a train in case of human error.
In 2008 Congress mandated the implementation of PTC technology across most of our nation's railroads by the end of 2015.  While Amtrak has already installed the technology in parts of its Northeast Corridor, questions remain as to why the technology was not available on a critical stretch, the curve in the Port Richmond neighborhood, where Amtrak Northeast Regional Train 188 derailed this past Tuesday night.
For many involved in this tragic accident, questions rise on how to cope with their losses and how to move on.  Obviously, those who were killed in the accident cannot be brought back to life, injuries that were sustained cannot be undone.  However, damages which can be recovered are compensation for the pain and suffering of the injured or deceased, expenses for medical care as a result of the injury, and so on.  Further investigation of the accident will reveal if punitive damages can also be recovered.
Amtrak's liability however is capped at $200 million per accident.  While $200 million appears to be a large amount, in an accident as large as this one, the funds can become depleted quite quickly.
If you or someone you know have been hurt in a train accident, please call the professionals at Collins Law Firm for a free confidential in depth consultation at 910-793-9000.
By Jana H. Collins