Monday, May 4th, 2015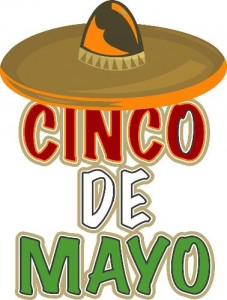 Cinco de Mayo, Spanish for "5th of May," is a widely-celebrated holiday in the United States. In Mexico, it is considered a minor holiday,  not to be confused with Mexican Independence Day, which happens on the 16th of September. Cinco de Mayo commemorates the Mexican army's 1862 victory over France at the Battle of Puebla during the Franco-Mexican War. The battle was led by Texas-born General Ignacio Zarazoga, who commanded his poorly-supplied and greatly outnumbered Mexican troops against the 6,000-strong French force of General Latrille de Lorencez. Beginning at daybreak on May 5th, 1962, the French army attacked the city of Puebla de Los Angeles. The French forces retreated in the early evening, having lost nearly 500 soldiers, while fewer than 100 Mexicans had been killed in the battle. Although this victory was not a major strategic win in the overall war against the French, the success of the troops at Puebla became a symbol of Mexican resistance to foreign domination. The war would eventually end almost six years later, with support of the United States military and political pressure.
In the United States today, festivities are most prominent in areas with a large Mexican-American population, and, in Mexico, celebrations occur most heavily in the Puebla region. The occasion is marked with parades, mariachi bands, Mexican folk dancing, and, of course, traditional Mexican food and drink in celebration of Mexican culture and heritage. Traditional foods include Mole Poblano, Chalupas, and Chiles en Nogada. Revelers may sip on sangria, margaritas, and Mexican beer, aka cerveza.
While Wilmington festivities will remain tame compared to celebrations in other cities, local restaurants are gearing up for the holiday with food and drink specials to mark the occasion. One local favorite, El Cerro Grande, promises an "epic fiesta" at each of their three locations. Many chain restaurants are also marking the occasion: Taco Bell® will reportedly be giving out free breakfast food, while Moe's Southwest Grill® will be giving away t-shirts. Restaurant-goers are sure to see specials aplenty on margaritas, tequila, and cervezas; sombreros may or may not be optional.
With alcohol such a big part of many people's Cinco de Mayo festivities, it's no surprise that drunk driving is especially high on "Cinco de Mayo".  At Collins Law Firm, we have over 20 years experience handling DWI/DUI's and other criminal and traffic matters. If you or someone you know is charged with a crime or gets hurt during the celebration, please call our office at (910) 793-9000 for your confidential consultation.
By Rebekka Sekeres, Legal Assistant at Collins Law Firm