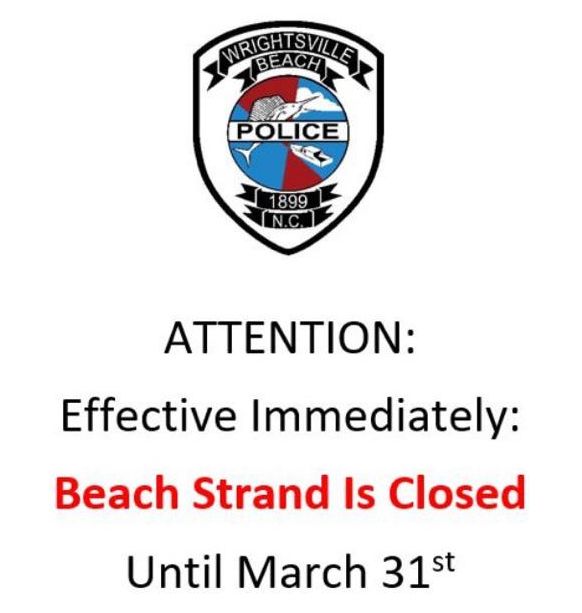 With the ongoing spread of the novel coronavirus COVID-19, businesses around the globe are having to make decisions to close, whether it be temporarily or permanent. Here in North Carolina, bars and restaurants are currently closed for dine-in, and are instead offering take out and/or delivery options. These changes are set for at least March 31, possibly longer, depending on how the virus develops and continues to spread.
As of today, because of COVID-19, the Wrightsville Beach Mayor and the Chief of Police have decided to close all of the public beach accesses. Surf City has also made the announcement that they have closed their public beach accesses.
Carolina Beach officials followed in the same fashion at a meeting this afternoon, and called a State of Emergency and decided to also close their public beach accesses. These decisions have been made to help prevent the spread of COVID-19 in our area, especially now that there have been 3 positive test results from our area.
Wrightsville Beach, Surf City, and Carolina Beach are all popular destinations for tourists and locals – other beaches in our area include Caswell Beach, Holden Beach, Kure Beach, Oak Island, Ocean Isle Beach, Surf City, Sunset Beach, and Topsail Island. However, officials in North Carolina are strongly urging residents strongly suggest against non-essential travel at this time and many vacation rental agency discuss flexible cancellation and date moving requests due to Covid19. And, North Carolina's welcome centers have been closed until at least April 1, 2020.
In the midst of information about the spreading of the virus or new precautions, unfortunately, false claims are spread promising ways to prevent an infection or even kill the virus, like inhaling hot air from a hair dryer, or gargling with warm water and salt or vinegar.  Please always consider the source of information and check with a healthcare professional before turning to self-remedies.  
By Karen M. Thompson, Paralegal