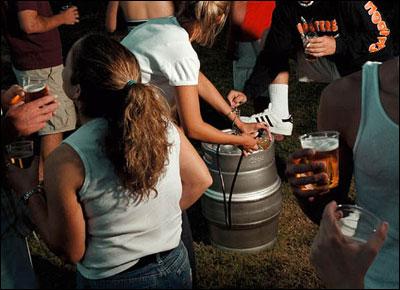 The Wilmington Star News – the primary printed news publication in New Hanover County North Carolina reported on recent efforts by law enforcement to  promote adherence to the state's underage drinking laws.
The paper reported that the New Hanover County ABC Board and the District Attorney's Office may be teaming up once again to help reduce underage drinking in the area.  The areas include Wilmington, Wrightsville Beach, Carolina Beach, Kure Beach, and all other areas in New Hanover County, and possibly Pender County.
The paper reported that the Fifth Prosecutorial District's top prosecutor, Ben David, asked the local ABC Board for assistance in developing a uniform way to enforce and punish cases involving underage drinking and related offenses.
Earlier this month, Ben David asked the board for a grant of $106,000 to fund a program comprised of two full-time positions – an assistant district attorney dedicated to prosecuting alcohol cases and a victim-witness coordinator for the specialized prosecutor.
The proposed program would specialize in handling charges from a multi-agency downtown task force, driving-while-impaired arrests involving minors, fraudulent identifications, and underage possession of alcohol.
According to the Star News, Ben David indicated that his focus with the program is on education for first-time offenders, and that underage drinking often leads to other crimes and that by reaching out to teenagers and others under the age of twenty one years of age, they can improve prevention of future problems.
The ABC Board and Ben David  worked together before to increase enforcement of North Carolina's laws regarding fraudulent identification documents and have promoted increased use of laws that result in the revocation of the offender's driver's license if convicted of fraudulent identification offenses.
The Star News indicated that the new project might have hurdles to overcome around before it can be implemented.  The paper reported that Tom Wolfe (who serves on the ABC Board and also is a county commissioner) said "conceptually it looks great [if] we could work something out to help kids realize the seriousness of underage drinking," but that Wolfe said the local board still had to discuss the proposed program with state ABC Commissioners to make ensure it met the required guidelines before it could be approved.  It was reported that if finally approved, the program would start in October 2013 and be implemented through August 2014.
Southeastern North Carolina is known as an area which is popular for young people to attend College and pursue careers.  Naturally young people enjoy to play and party around our  beaches and downtown areas which provide various opportunities in which they may get charged with crimes. Many young people under the age of twenty one years old (the minimum age to legally purchase and consume alcoholic beverages) either purchase or create fake IDs online or use friends' IDs who are of age to purchase alcohol.
Convictions of using fake IDs have serious consequences. The conviction of possession of a false identification or a fake ID alone often results in prosecution therefor. The original owner of the ID may face criminal liability as well.  If convicted of an offense involving a fake ID, N.C.G.S.§ 20-16(a)(6) provides that, one faces a mandatory suspension of their license by the Division of Motor Vehicles. In many cases, reinstatement of one's license or the issuance of a limited driving privilege or hardship license before the end of the mandatory suspension is not possible.  However, in many cases, avoiding a conviction is possible.
Attorney David Collins has almost 20 years of experience in the legal field, and has represented many people charged with underage consumption or possession of alcohol, and many college students or others charged with  crimes involving  fake IDs successfully. If you or someone you know has been charged with a crime involving underage consumption or possession of alcohol or a fake ID, call (910) 793-9000
(910) 793-9000 for a free confidential consultation.