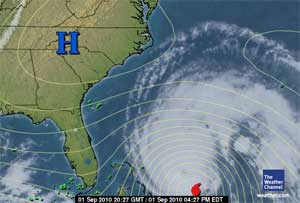 Hurricane Earl is rapidly approaching coastal North Carolina, and many people in our area are likely to be affected by this storm.
Those in the affected areas may sustain damage to their property. If they have home owners insurance, some or all of the damages may be covered. However, in order to increase the chances of claims being paid accurately, you should document the damage. For example, if you live in a flood-prone area and are likely to incur flood damage, you should videotape the areas likely to be affected before the damage occurs to show the pre-damage state of your property. Likewise, if you are likely to sustain damage to the exterior of you dwelling, videotape or take pictures of the exterior to show what good shape it was in prior to the storm.
If you are in an area where there is a mandatory evacuation and you fail to evacuate, there may not be emergency services available to you for a period of  time. Therefore, if you are in an area with a mandatory evacuation you should heed the warnings and evacuate.
Collins Law Firm hopes that no one gets injured in this storm and that the property damage will only be slight or none at all.