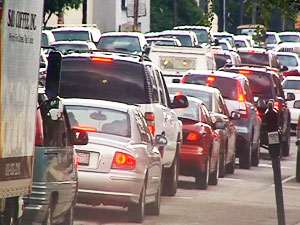 Hurricane Earl has passed our area, and thankfully without inflicting much serious damage to our area.
Now we are heading into a busy Labor Day weekend. The American Automobile Association (AAA) is predicting a 10% increase in travelers on the road this year over last year. They predict that about 34.4 million people are likely to take trips of at least 50 miles.
That means that everyone needs to take greater precautions and plan for heavier traffic and slower travel paces. Law enforcement is likely to be stepped up this weekend and many people will likely receive speeding tickets or other traffic citations, and there are likely to be more accidents on the road than on non-holiday weekends. There are also likely to be impaired drivers and boaters who will receive DWI/DUI's and BWI/BUI's (boating while impaired/under the influence).
Anyone who receives a ticket or other criminal charges, or who is involved in an accident can call Collins Law Firm for a consultation about what we can do to help. We have been serving Southeastern North Carolina around the Wilmington, NC area for over ten years, representing people charged with traffic tickets or other criminal charges and people injured in traffic accidents or crashes.
Please be safe and have a wonderful weekend!
Collins Law Firm