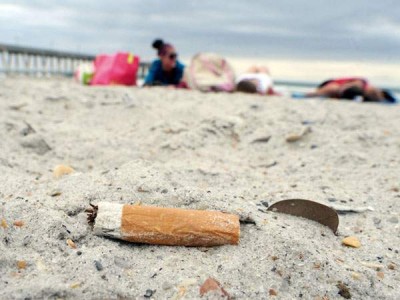 Spring is here, and people across the Southeast are thinking about going to the beaches in Southeastern North Carolina and planning trips.  We have beautiful beaches in our area.  In New Hanover County, there is Wrightsville Beach, Carolina Beach, Wilmington Beach, and Kure Beach. In Pender County, there is Surf City and Topsail Island.  In Brunswick County, there is Sunset Beach, Holden Beach, Oak Island, Caswell Beach, and Ocean Isle Beach.
There are many efforts to prevent littering, and many make the news in our region.  In Wrightsville Beach, the Cleaner, Greener Wrightsville Beach committee has proposed a list of ideas to help prevent littering.  They proposed the following steps:  to develop a visual image for regular signage and holiday banners to remind visitors to keep Wrightsville Beach clean; create a logo that can be included on T-shirts (possibly signage and banners, too) to identify beach sweep volunteers and solicit volunteers to educating the public about cleaner, greener efforts; color code recycling containers and consider additional recycle locations on the beach strand; maintain the Green Tab on the town's website through IT manager, Raquel Ivins; work with the Wrightsville Beach Merchants Association and Mayor David Cignotti coordinating with their litter awareness efforts; and study and use results of the Cleaner Greener Survey in developing ideas and plans.
Another program is North Carolina Big Sweep.  They finished first in the voting in the MillerCoors River Network competition.  The first prize is a $30,000 grant.  The statewide non-profit group says the money will be used to coordinate cleanups in all 100 counties in North Carolina and to implement a litter awareness campaign.  WWAY has partnered with Big Sweep on annual beach clean-up programs in the area.
Our beaches are beautiful, and we should all help to alleviate littering.  Littering on most of our beaches is a crime – a misdemeanor, and a conviction for littering can remain on one's criminal record for life unless steps are taken to prevent it.   If you are charged with littering, or any other crime in our area, Collins Law Firm can help prevent the consequences of being charged, such as court appearances, and convictions and the subsequent consequences of a conviction such as fines, court costs, probation, etc.  We have been doing so for over a decade.
One way we often help avoid convictions for such crimes as littering is to negotiate with law enforcement and the district attorney's office to have a client perform a number of hours of volunteer service.  Often that volunteer service can be picking up litter on the beach.
If you have been charged with littering, or any other crime in our area, call Collins Law Firm at 910-793-9000 for a consultation about what we can do for you.