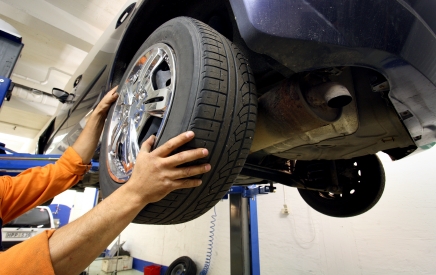 A visit to an auto repair shop can be intimidating. Especially when you need work done on your car and you aren't sure what exactly needs to be done or how much it is going to cost. In order to avoid an unpleasant experience, it's always a good idea to ask friends and family to refer you to a mechanic they have used and trust. Check to see that the mechanic is ASE (National Institute for Automotive Excellence) certified and that a sign is posted explaining your rights under the North Carolina law. Familiarizing yourself with the North Carolina Motor Vehicle Repair Act in advance may also help to avoid problems with a shop after work has been done on your car.
North Carolina's Motor Vehicle Repair Act (G.S. 20-354) protects consumers when auto repairs cost more than $350. Here's how the law works:
•    The repair shop should give you a written estimate and ask you to sign an authorization for the repair. If the car is dropped off by someone else or at a time when the shop is closed, the estimate and authorization can be agreed to orally.
•    When you authorize the repair, you have the right to request that you get back or examine any of your car's old parts.
•    The repair shop must notify you of any storage charges you'll owe if you don't pick up the car once the repair is completed.
•    The repair shop may not exceed the cost you authorized by more than 10 percent without first getting your permission.
•    If the problem is unknown, the repair shop must tell you how much it will cost to diagnose the problem. Once they've diagnosed the problem, the shop must contact you with an estimate and to get authorization to do the work.
•    The repair shop must provide you with a detailed invoice that itemizes charges for labor and parts and identifies all parts as new, used, or reconditioned.
•    Keep in mind that repair shops have flexibility in marking up the charge for parts and that you must pay for authorized repairs even if they do not solve the problem.
•    The Motor Vehicle Repair Act does not apply if your insurance company is paying for the repairs, or to agricultural equipment and vehicles weighing more than 26,000 pounds.
Knowing your rights under the Motor Vehicle Repair Act may help avoid a headache during or after a future trip to the mechanic. If you feel as if your rights under this act have been violated by a mechanic or auto repair shop, or if you have legal concerns about any area of law in which we practice, contact us at (910) 793-9000
(910) 793-9000 for a confidential legal consultation.
By Lauren Seidel, Paralegal